Take Fun to new heights and save
Experience exhilarating fun whenever you want!
Sky Trek Individual and Family Season Passes allow kids and adults to play on the popular Sky Trek aerial trekking course all year long for less! With 110 unique elements ranging from simple sky-bound strut to full-fledged daredevil on a 4-level course, there is something new for everyone on every visit. Parents can play too with the family pass or watch the kids from the seated viewing areas. The whole family enjoys the day!
Valid for 365 days from the date of purchase (we're open all year long!) Pays for itself in just 4 visits! Pass is non-transferrable.
Valid for 365 days from the date of purchase (we're open all year long!) Pays for itself in as little as 2 visits. Available for up to 6 family members. Pass is non-transferrable.
The level of each challenge is indicated by color, allowing you to make this sky-bound escapade as epic as you please.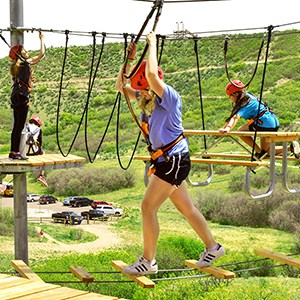 Focus on fun over challenge. Get your footing and navigate with ease.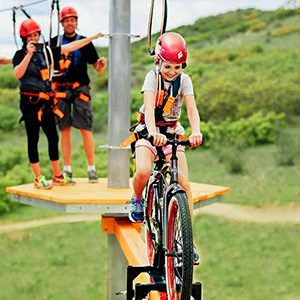 Maybe you're not quite ready to go full-on daredevil but you want to test the waters.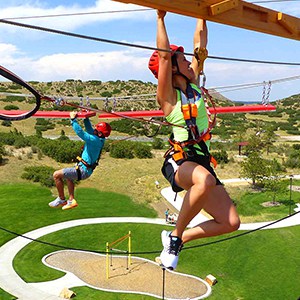 You're daring, you're adventurous, you have no fear. These elements will push your limits.
Much like challenge level, guests can choose their level of thrill. Keep it closer to the ground or bring it sky-high for a true adrenaline rush.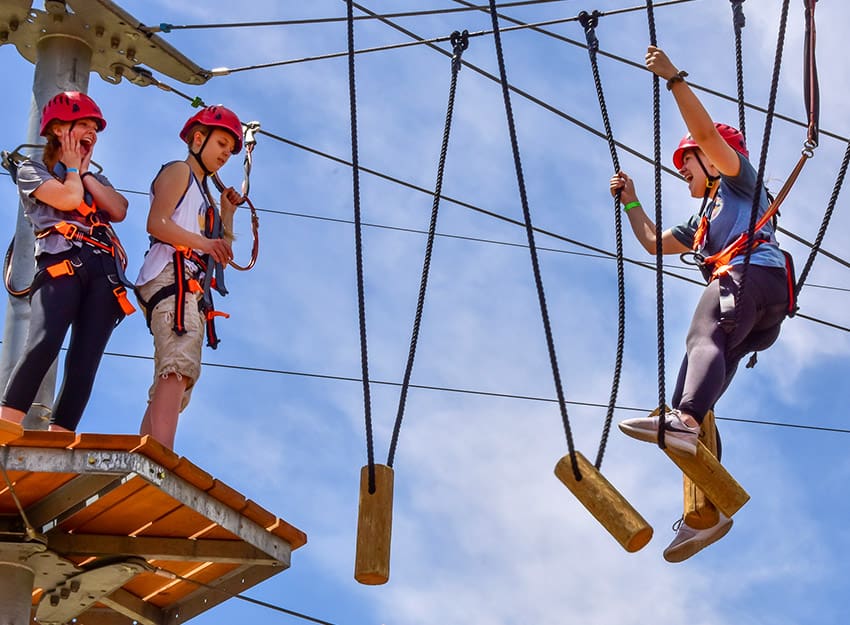 Make sure you're ready to roll before booking. The requirements per activity vary slightly.
There is no weight restriction for the Sky Trek. However, the following size requirements apply: 
Kids Course (lowest level) – Must have a reach of 5 ft. above the ground.
Upper levels –  Must have a reach of 6.5 ft. above the ground.
Participants who don't meet these requirements must be supervised by a guest who does.
Children ages 8 and under must be accompanied by an adult. 
Must be in a physical condition apt for climbing, jumping and balancing. 
Pregnant women, people with severe leg or back problems, broken limbs, or other serious illnesses will not be able to participate.
What Our Guests Are Saying
The ziplining is a lot of fun. Sky Trek was great too. Everything was well ran, safe, the staff was friendly and helpful.

— Nicole F
Great instructors! They were friendly and informative and made us feel safe. It was a great ending to our day after climbing at the Sky Trek.

— Savannah L
We did both the zip line and sky trek. It was a fantastic experience! Highly recommend! My 12 year old and I loved it!

— MRJ
The whole ziplining experience was awesome! My adult kids and I had blast. We actually also did the sky trek which was great as well. Very challenging at first but worth the effort.

— Jennifer S
Amazing family fun! Thanks to guides Nick and Carson who were kind, helpful and patient! Thanks for the memory! Kids had a blast at the Sky Trek afterward...a full day!

— Kim W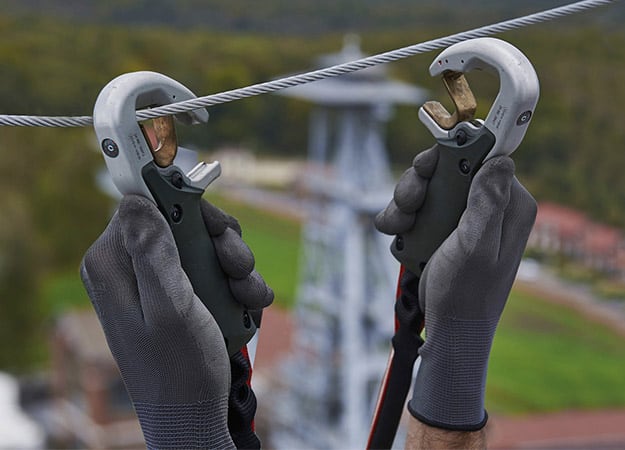 Serious Fun. Serious Safety.
Our harnesses are equipped with the CLiC-iT double clip system that allows full mobility while ensuring you are safely clipped in at all times. Our guides are also stationed on each level to assist if you find yourself in a bind.
Challenge your team, build trust, communication and unity—and have fun while doing it! It can only go up from here, right?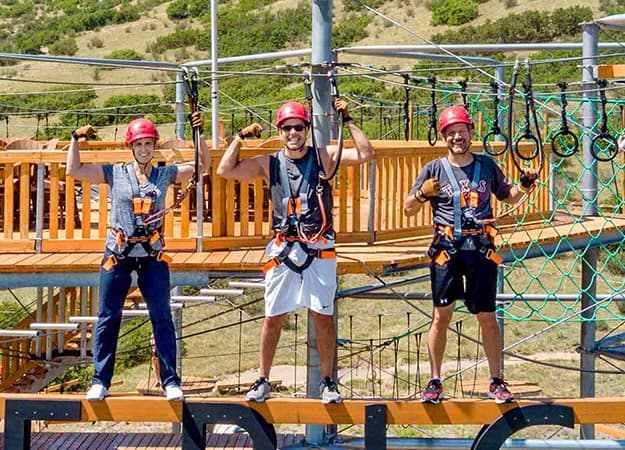 Got Questions?
We've Got Answers.