The Top-Rated Denver Zipline Tour
Canvas the truly inspiring views of Colorado's countryside on our 10-line zipline adventure. Feel the rush of adrenaline as you reach top speeds of 50 MPH while soaring across some of Colorado's longest lines. Just 30 minutes from Denver and Colorado Springs.
Get the rush of a lifetime as you soar from line to line. Experience Colorado's jaw-dropping landscapes from over 100ft in the air on our top rated Denver zipline. This unforgettable adventure will have your adrenaline pumping as you fly through the sky and take in the stunning views. With 10 different lines and more than two miles of excitement, our action-packed ziplining near Denver is perfect for the thrill-seeker and the adventure lovers alike. Book your zipline experience today!
The zipline tour does require some moderate hiking. Leave the rest up to the line!
Fly fast and high suspended over 100 ft. off the ground. There's nothing but thrill here!
Make sure you're ready to roll before booking. The requirements per activity vary slightly.
In order to make it across each line safely, we do require guests to fall within this weight range. 
All ages are welcome as long as the weight requirements are met.
To get to the ziplines, guests will take moderate hikes that require average mobility.
Pregnant women, people with severe leg or back problems, broken limbs, or other serious illnesses will not be able to participate.
Add on to Your Denver Zipline Adventure
Check out our other fun adventures!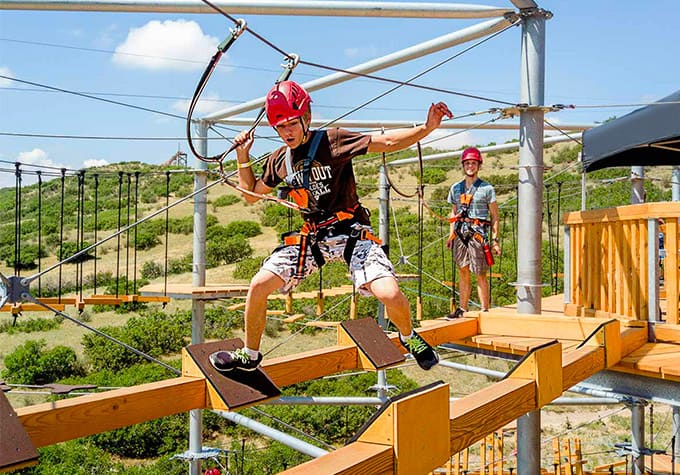 4-story, 110-element aerial trekking course.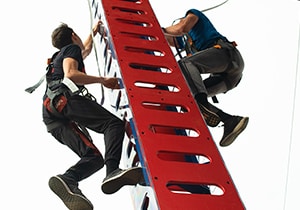 Adrenaline pumping free falls, plus climbing wall and rappelling stations.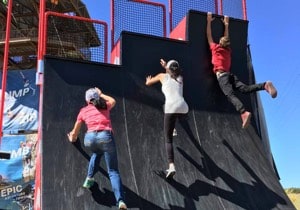 A challenge for mind and body—just like you see on TV!
Got Questions?
We've Got Answers.
What Our Guests Are Saying
Best experience with over the top staff. They are hands on with safety and training. Me and my kids had the best time ever. The staff took the time to train, coach, mentor, motivate and guide. Hands down the best zipline company!

— Desmond T
Austin and Nelson were incredible guides on our zipline tour! Thanks for the laughs and fun!! We had a great time on our honeymoon trip and the zipline tour was definitely a highlight.

— Hallie
Miss Lauren and Austin make you feel like you can zip anywhere! They were great guides that made this an amazing experience for everyone in our group. For those that are nervous about heights these two made everyone feel comfortable and relaxed. Definitely bringing all of my future guests here!

— Leslie K
The combination of hiking and ziplining was fun. The personality of the tour guides really improved the experience. (Newt & Caroline)

— Adam H
Thanks for a great zip line experience. Austin & Dave did a super job. Well done guys! We'll be back.

— James P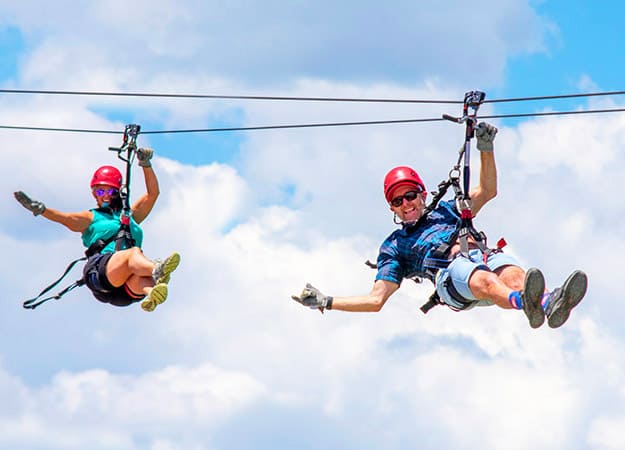 Serious Fun. Serious Safety.
Safety is a top priority. Our course meets or exceeds the industry guidelines set by the ACCT, each guide completes an intensive training and certification program and prior to the tour, guests will complete "ground school" to familiarize with the basics of ziplining.